How to Reset Portal Login Password
Overview

The Help Desk Portal is a platform implemented by Blue Bison to serve our clients better.
It lends greater support to our clients who are able to access useful resources whenever needed. How convenient, right?
Authorized users who
have forgotten their password but need access to Support Portal can use the Forgot Password feature to quickly reset their passwords.
Follow the steps outlined in this article to use this feature.
Steps to Reset Support Portal Password
Employees can reset their passwords from the Support Portal Home Page by following the steps outlined here:

1. Locate Reset Link on the Sign In Page
Navigate to the Sign In Page and select the Reset link as shown below.


2. Submit Email Address For Password Reset Link
Once at the Forgot Password page, do the following:

Enter Email Address used to sign up for the Support Portal

Utilize the captcha by typing the letters or numbers shown in the field below.

***Note that this is case-sensitive.***

Select the Submit button once satisfied with the inputs on the page.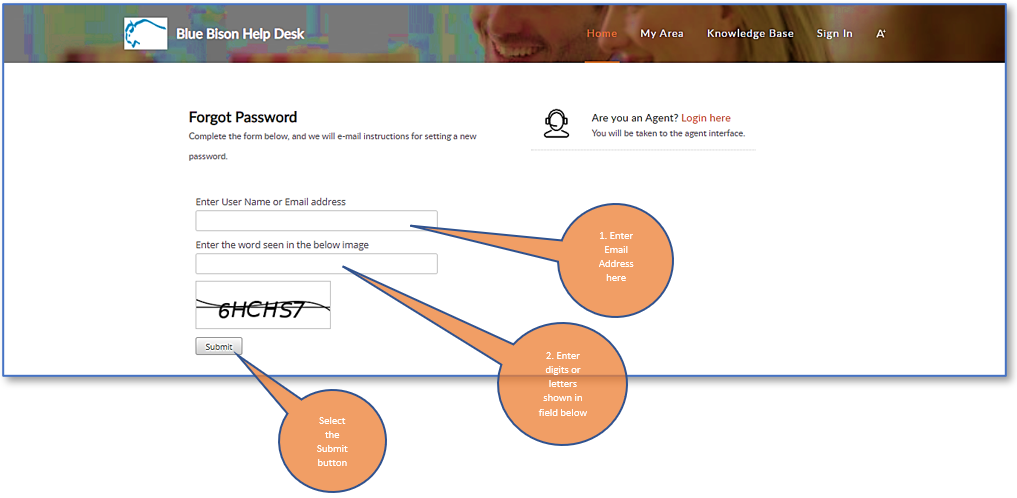 The following message will appear on the screen in information submitted on the Forgot Password page is accepted:


Please check the message sent to your registered email and follow the instructions to reset your password.
3. Click Reset Password Link

Reset Password - Blue Bison Software
Once found, click the link in the email to be re-directed to Password Reset page where you can input and confirm new password.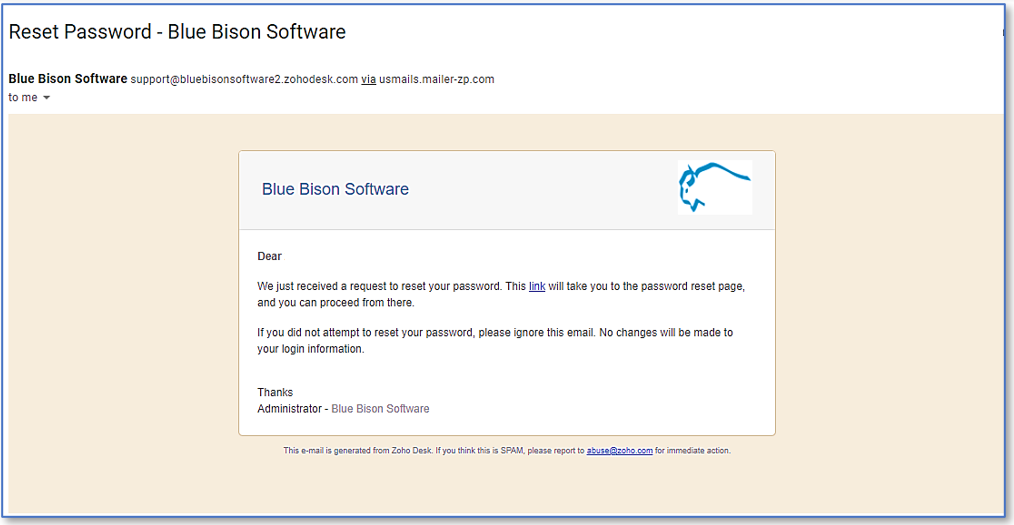 If you have questions about information presented in this article, feel free to submit a ticket or start a chat :)
Related Articles

Help Desk Portal Registration and Troubleshooting

Overview The Help Desk Portal is sometimes referred to as the Support Portal. It has been implemented by Blue Bison to serve our clients better and offers many benefits. To access the Portal, registration is required. There are some of our clients ...

VIDEO: How To Navigate Through The Knowledge Base

Click here to view written article on this topic.

How To Disable Popup Blockers On Your Browser

Popup blockers have become a common feature in modern web browsers, designed to enhance user experience and protect against unwanted or intrusive advertisements. However, there are instances when you may need to disable popup blockers temporarily to ...

HRM Technical Requirements

HRM 5.x Technical Requirements Hardware Below are our recommendations for a typically HRManager deployment based on employee count - actual configuration may vary based on other factors like storage, network performance and desired performance - see ...